Dr. DeVincentis now performs the revolutionary procedure called I Lipo. Using low level lasers, this machine will stimulate your fat cells to release their contents and then be burned off through exercise. Dr. DeVincentis is currently the only clinic in Jacksonville with this machine. Please click on the video to see how it works, or check out our Facebook & Instagram for more information.
Does i-Lipo REALLY work?
Yes, it really does works! "Laser" is simply a visible form of light energy. In the case of i-lipo, the laser energy is able to safely penetrate the skin and stimulate the fat cells in a specific way to cause them to release fatty acids, a natural storage form of fat. This is the same process that occurs when your body needs to release fat as a fuel source during exercise. The fatty acids are then absorbed into the lymphatic system, transported to the circulatory system, returned to the liver, and redistributed to the body. The body can then either burn the fatty acids as fuel (which is why you exercise after a treatment) or store them for future use.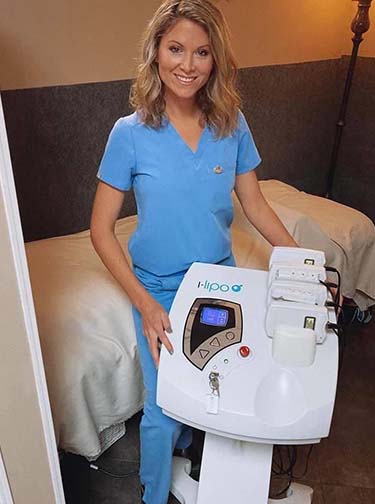 How long will it take before I see results?
Two sessions a week are scheduled for maximum body contouring. Reshaping an area takes approximately 6 to 8 treatments, therefore the body can reshape measurably in just one month's time. You can see results right after treatment. Generally, a 2-4 cm loss is seen with each abdominal treatment. Most people lose around 2-4 inches by the end of their 8 treatment cycle.
To maximize inches lost, it is recommended that clients exercise immediately after each treatment. This allows for the fat that has been released to burn off rather than be reabsorbed into the body.
How long do the results last?
That's the beauty of i-lipo! The results last as long as you want them to! If you are disciplined about using the right diet, exercise, and nutritional supplements, your results should last forever. Keep in mind that there is no limit on how many sessions you can have. So, if you have a lapse in exercise or diet, you can always come back for some "touch up" sessions on your problem areas.
Is the fat loss permanent?
Yes… and no! Your long term results will depend on your ability to make long term changes in your lifestyle. If you reduce your circumference by 3-4 inches, but make no lasting changes to your diet, fitness, or nutritional regimen, you should expect to re-accumulate fat in all areas over time. How long this takes will depend on the individual.
Does i-Lipo hurt?
Not at all. i-lipo is completely painless. You might feel a slight warming sensation on your skin, but there is no pain or discomfort, unlike traditional liposuction.
Is this dangerous? Can the laser cause injury?
The laser light emitted by i-lipo is safe. No damage occurs to the skin or structures under the skin. There are many lasers that cause "micro" pores in the skin in order to cause skin tightening. This is NOT what i-lipo is designed to do. i-lipo does not freeze, heat, melt, or destroy tissue.
What body areas can be treated?
Any area of the body can be treated, with the exception of the breast.
---
Care Credit:
We are now accepting care credit as a payment option for iLipo treatments. If you are interested in applying for a care credit account please click the link below for more information.
OFFICE HOURS
---
Monday
8:00am - 6:00pm

---
Tuesday
8:00am - 12:00pm
---
Wednesday
8:00am - 6:00pm
---
Thursday
8:00am - 12:00pm
---
Friday
8:00am - 6:00pm
---
Saturday
Closed